March 10 & 11, 2018 UTM Fastpitch along with Aurora Diggers U19 hosted the 2018 Edition of March Madness at the Barrie Sports Dome. This event was attended by 24 teams from U12 to U19, and included over 38 games during the two days. Games commenced early Saturday at 8AM, and continued into Sunday evening when the final U19 game was played. We would like to thank all the teams that chose to attend our event, and we wish everyone the best of luck in their 2018 outdoor season!
Thank you to this year's two main sponsors. Goodlife Fitness Clubs, and MacGregor's Meat & Seafood Ltd. Goodlife supplied bags to all players attending the event, and MacGregor's provided each player with a lunch combo during their time at the Dome.


SCHEDULE
Please Note: Scores are reported in the scoreboard section further down on this page.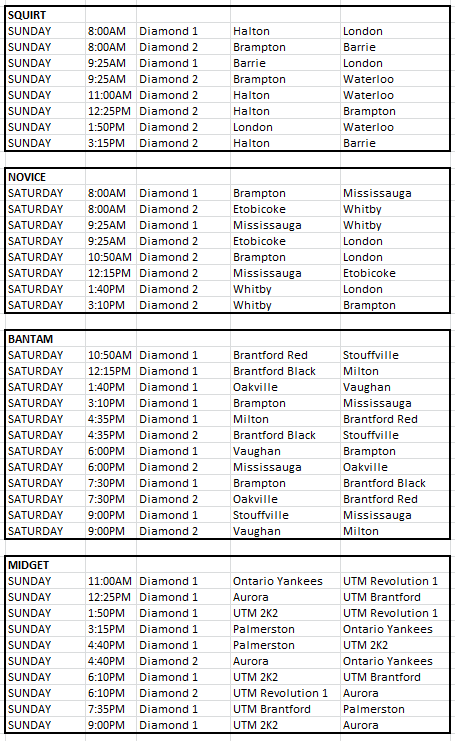 FORMAT & DETAILS
Below is a full run-down of the rules for this weekend's event. We have also highlighted some important points below...
Game length is 7-innings or MAX 75-minutes (drop-dead), which allows the next game to start as scheduled with a 10-minute window to clear the diamonds
Unlimited defensive substitution is allowed, and teams should bat their entire lineup. Scores are being tracked online using the Room Roster Tournament App. More details to come soon...
Lunch is provided to teams ***provided teams have submitted a roster to the tournament organizer in advance*** Otherwise food coupons MAY NOT be distributed?
GAME RESULTS
SQUIRT:
Halton vs London
Brampton vs Barrie (Brampton wins)
Barrie vs London (London wins)
Brampton vs Waterloo (Brampton wins)
Halton vs Waterloo (Halton wins)
Halton vs Brampton (Halton wins)
London vs Waterloo (London wins)
Halton vs Barrie (Halton wins)
NOVICE:
Brampton vs Miss North (Final 6-6)
Etobicoke vs Whitby (Final 0-8)
Miss North vs Whitby (Final 4-7)
Etobicoke vs London (Final 0-12)
Brampton vs London (Final 5-9)
Miss North vs Etobicoke (Final 4-1)
Whitby vs London (Final 13-2)
Whitby vs Brampton (Final Whitby wins)
BANTAM:
Brantford Red vs Stouffville (Brantford Red wins)
Brantford Black vs Milton (Final 12-1)
Oakville vs Vaughan (Final 2-2)
Brampton vs Miss North (Final 0-6)
Milton vs Brantford Red (Final Brantford Red wins)
Brantford Black vs Stouffville (Brantford Black wins)
Vaughan vs Brampton (Tie game)
Miss North vs Oakville (Tie game)
Brampton vs Brantford Black (Final 3-11)
Oakville vs Brantford Red (Tie game)
Stouffville vs Miss North (Miss N wins)
Vaughan vs Milton (Vaughan wins)
MIDGET:
Ontario Yankees vs UTM Revolution (UTM wins)
Aurora vs UTM Brantford (Aurora wins)
UTM 2K2 vs UTM Revolution (2K2 wins)
Palmerston vs Ontario Yankees (Ontario Yankees win)
Palmerston vs UTM 2K2 (Palmerston wins)
Aurora vs Ontario Yankees (Ontario Yankees win)
UTM 2K2 vs UTM Brantford (2K2 wins)
UTM Revolution vs Aurora (UTM wins)
UTM Brantford vs Palmerston (Palmerston wins)