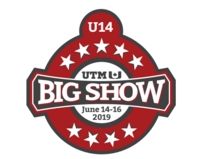 Welcome to the home page for the UTM Big Show Tournament weekends. U14 Tournament runs June 14 to June 16. This year the U12 Tournament runs July 26 - 28. We are extremely excited to once again have both weekends sold out. We have 28 teams competing the first weekend, and 24 the second weekend which means the diamonds will be very busy over tournament weekends this summer.

Park Information
Here is the address information for the parks being used for the events this summer:
| Park Name | Address | U12 | U14 |
| --- | --- | --- | --- |
| Princeton Park (North, South) | 35 Main Street, Princeton ON | Yes | Yes |
| Drumbo Park (Diamond 1 and Diamond 2) | 41 Centre Street, Drumbo ON | Yes | Yes |
| Plattsville Community Centre | 68 Mill Street East, Plattsville ON | Yes | Yes |
| Bright Community Diamond | 51 John Street East, Bright ON | No | Yes |
| New Dundee Community Centre | 1028 Queen Street, New Dundee ON | No | Yes |
Now in our 4th year of operation, the UTM Big Show continues to be one of the must attend events of the tournament season. We thank the coaches/managers of all attending teams for including our event in your plans for 2019. UTM Fastpitch has partnered with Event Connect for this tournament. Schedules, standings and more will all be made available on Event Connect. Please also use Event Connect to book hotel rooms (if needed) for either tournament weekend.

U12 Schedule Link
Click below for the U12 Weekend Schedule. Games commence at 12:30 Friday afternoon. Championship play is scheduled to wrap up around 6:00pm Sunday.


U14 BRACKET PLAY SATURDAY EVENING & SUNDAY
Click the button below to view the interactive playoff bracket document.
Tier 1 - Top 9 advance to "A', remaining 6 will play "B"
Tier 2 - Top 9 advance to "A", remaining 4 will play "B"