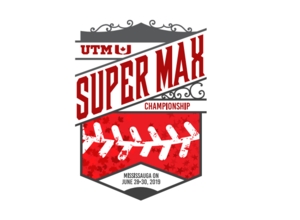 UTM Super Max
Welcome to the home page for the UTM Super Max Championship 2019. This is our newest tournament addition, and we are excited to have a great list of teams attending this June/July long weekend. UTM has partnered with the Mississauga North Tigers, and Event Connect to offer a great weekend of fastball for U16 and U19 divisions. We have over 45 confirmed teams, so there will be plenty of ball played over the 3+ days of our event. We have secured diamond space across the Mississauga area, with most facilities being at/near entrances to the 401 highway. We also have plenty of hotels to choose from, and all of these facilities are close to the locations that teams will be playing out of. Thank you to all the coaches & managers who have chosen to make this tournament part of your summer 2019 plans.
Event Reminders
Games Commence - 10:00am June 28th, play continues all weekend

Championships are July 1st

Location Mississauga, Ontario Canada

Minimum 8-Game Guarantee, PWSA Sanctioned
We still are accepting teams at U19. We will close U19 registration as of February 1st... Click the button below to register.

Here are the teams attending:
| # | U16 Tier 1 | U16 Tier 2 | U19 Tier 1 | U19 Tier 2 |
| --- | --- | --- | --- | --- |
| 1 | Toronto Mets 03 | Windsor Lady Expos | Kawartha Lakers | UTM Revolution Brantford |
| 2 | Tavistock Athletics 03 | Mississauga North Tigers (S) | Mississauga North Tigers (B) | Port Perry Angels |
| 3 | Brantford Bobcats Black | Vaughan Vikings 04 | Mississauga North Tigers (D) | UTM Revolution 002 |
| 4 | Toronto Mets 04 | Mississauga North Tigers (D) | Napanee Express | Tavistock Athletics |
| 5 | Brampton Blazers Gold | Barrie Storm | BT Warriors Fastpitch | UTM 2K2 Eastern Ontario |
| 6 | Oakville Angels 03 | Milton Bats (W) | Whitby Eagles | Ontario Yankees Senior |
| 7 | Palmerston Marlins 03 | London Lightning | Brampton Blazers (M) | Ontario Yankess Junior |
| 8 | Brampton Blazers Burgundy | Whitby Eagles 05 | | |
| 9 | UTM Revolution 2K4 | Halton Hawks 05 | | |
| 10 | Halton Hawks 03 | Port Perry Angels | | |
| 11 | Mississauga SW Hurricanes | Breslau Fury | | |
| 12 | Kingston Kobras | Whitby Eagles U16 | | |
| 13 | Springfield Brewers | Brantford Bobcats Black | | |
| 14 | Mississauga North Tigers (C) | Guelph Gators | | |
| | | Quebec Dragons | | |
| | | Oakville Angels 04 | | |