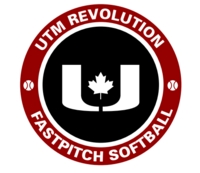 UTM Fastpitch is excited to announce expansion further in Eastern Ontario with the arrival of our U16 Durham program. This new team will be holding tryouts this fall in the Whitby area, alongside our U19 Eastern Ontario program. UTM recognizes there are a number of choices for athletes in the surrounding area, but we strongly encourage everyone to come see what this team is all about. We expect great things both on and off the field for this new affiliate program in 2019/2020. Interest has been steady, and we expect a good turn-out at the tryout times posted below.
UTM has a strong & respected leadership team in place at the exectutive level, which will make all the difference for our coaches & athletes. In just a few short years our organization has grown steadily each fall. We have also successfully run countless tournaments across Ontario, and hope to perhaps bring a new event to the area in 2020 as well.
Coaching Team:
Eric Heron – Head Coach
Paul Bennett – Assistant Coach
Brad LaChanse – Assistant Coach
Head Coach Bio:
Coach Eric has been a player for 30+ years and has been actively coaching softball since 2014. He brings years of rep experience from playing baseball as a youth (from Pee Wee to Senior division), and captured an Ontario Baseball Association Championship in Junior. He prides himself on his work ethic and overall dedication to his players and the sport. Coach Eric has always had a strong passion for softball and takes pride in sharing his knowledge in an educational environment. Since 2017, he has served as instructor at a softball coach's clinic in the region. He also has experience as Director of a local softball association and is the founder of Smash Softball, a softball development clinic for girls interested in playing select and rep. Finally putting his passion fully front and centre for the 2019-2020 season, Coach Eric is committed to developing the fundamental skills of each player on UTM Durham as well as training each player to maximize their ability as an athlete. Focused on providing a positive and challenging environment for his players, he continues to instil that there are no limits to hustle. A Durham resident for over 12 years, Eric has served as a positive contributor to his community in many capacities. He is fully certified in CPR and First Aid and understands the importance of safety in sport.
Tryout Times/Location: Kelloryn Park, Whitby ON
- September 3rd - 6-8pm
- September 5th - 6-8pm
- September 8th - 10am to noon *Iroquois Park Diamond 4*
- September 10th - 6-8pm