Revolution U16 2K4 GTA North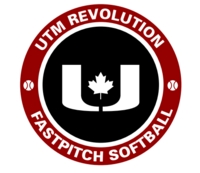 UTM Revolution 2K4 U16 will be based in Caledon for the 2019/2020 season. We have approved this new affiliate for play. Tryouts for this team will be in compliance with PWSA regulations this September. We are excited for the chance to expand the UTM Fastpitch brand into the GTA for the 2019/2020 season. This team will be a Tier 1 program.

Coaching Info:
The head coach is Mike Barber. Mike began his coaching career in baseball and softball in 1990 with West Hill Baseball, where he served as a coach and as the vice president of the league in 1992. He coached girls softball through the early 90's in Scarborough and returned to rep baseball in 2005 with the Mississauga Majors, winning the AA Provincial Championships. Mike continued to Coach in the AAA and Rep-level programs with the Southwest Mississauga Twins and Hurricanes (MSBA) through 2017.
Mike's partner is Andrew Crockett. Andrew is a level 3 NCCP certified coach who has worked with the 2004/2005 age group over the past several seasons, most recently in Brampton. Andrew's teams have enjoyed significant success on and off the field over the past few years with 2 provincial silver medals to their credit.
Contact Info: Mike at (416) 931-5516 (coachmbarber3@gmail.com) for info on his experience, his plan for training, tournaments etc.
Andrew's contact details are (905) 965-6327.(crockettorandrew@gmail.com). Please be advised specifics on player roster etc. can't and won't be discussed until September 1st. All the coaching leaders can do at this time is share basic info about the tryouts, possible tournament schedule, and in/off season training.
Team Info:
UTM 2K4 Caledond sets up to be a Tier 1 program for the 2019/2020 season. This program will compete at the PWSA level and is electing to opt-out of formal league play. The team will practice during the off-season at a yet to be determined location, however during the season the team will participate in practices & exhibition home games in the Town of Caledon.
Tryout Times
We look forward to seeing everyone at the open tryouts taking place at Sid Coburn Park (18297 Hurontario Street, Caledon, L7K 0Y5) at the following times:
​Monday September 2nd - 6:30 to 8:30pm
Thursday September 5th - 8:30 to 10:30pm
if needed Tuesday September 10th 8:30 to 10:30pm
We ask everyone arrive early to warm-up and/or complete the UTM attendance tracker forthcoming towards the end of August.
**PLEASE NOTE: We will be using video tools and ratings to start building a profile for all of the players at the tryouts for training and development purposes. All videos of players who do not make the team will be deleted at the conclusion of the tryout process.**