We're excited to announce the formation of our first ever U14 program for the 2019/2020 softball season. This program will be in Northern Ontario, and will be one of the first representative softball programs in the Northern Ontario Community. Please keep checking this page over the summer months as we add information and content about this new UTM program for 2019/2020. Announcements on coaches, training facility and more will be forthcoming!
Our U14 North program has secured a coach/leader for the 2019/2020. UTM Fastpitch is extremely excited to have a female leader for this affiliate program. We would like to extend a warm welcome to Sabrina. We've attached some details about her below. Keep watching our social media, and website for additional details on this new affilate program for the 2019/2020 U14 season.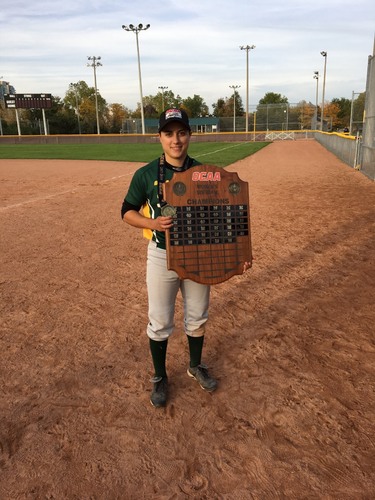 Sabrina Stalteri
Coaching Profile:
My name is Sabrina Stalteri, born and raised in Vaughan, Ontario. I started playing softball at the age of 3 and played for 17 years. I played 2 years of tee ball, 1 year of 5 pitch, 1 year of select combined with house league and then competed in the big game. I started my rep fast pitch career under the Vaughan Vikings and then continued under the Brampton Blazers, Celtic Gold and the Mississauga North Tigers. After completing high school, I accepted a scholarship to Durham College, giving me the opportunity to play for the top college softball program in Ontario, the Durham Lords. Always training, practicing and continuing to learn, I became a 3 time back to back All-Star Canadian, a 2 time OCAA gold medalist and, finally, finished my career in my final OCAA appearance with a .625 batting average. Two of the greatest things to learn in the sport are versatility and adaptability on the field. A positive attitude, a tip of the cap and a smack of the glove is what the game is all about.