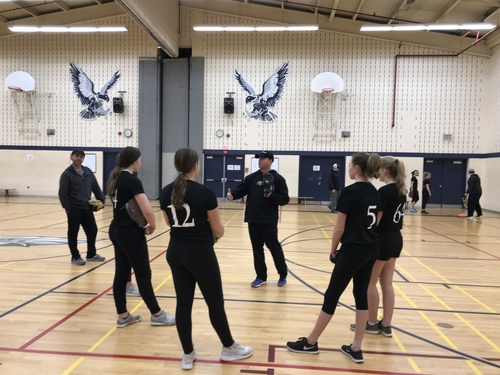 (Cambridge ON) This off-season the Revolution 2K4 team has been training out of a local high-school gymnasium on Sunday afternoons. The time slot worked out best for the athletes on the roster because many are multi-sport athletes, and many come from different parts of Southern Ontario. In the fall when the team's leaders looked at possible training options, the location fit well given the team's make-up.
This past weekend the team had guest instructors out to help with pitchers (Fred Follings) and also the overall team performance (Tori Taylor). Guest instructors, are something the parents, coaches and players wanted to see this off-season to hear/see another perspective on aspects of the game.
Revolution 2K4 is looking forward to the upcoming season, which is now finally less than 2-months away. Uniforms, and equipment have been ordered, the team is working on finalizing practice facilities in season, and has already been busy booking tournaments, and exhibition games for the summer season.
Look for more on Revolution 2K4 in the coming weeks.