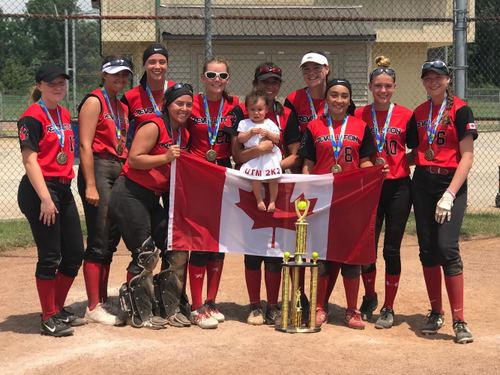 You never know what can happen when you travel to the States for a tournament, sure you can plan for tough competition, you can pick events that are not the prime offerings so to speak... but you really never know what you will get when you enter a tournament stateside. This weekend for the UTM 2K2 team what they got was a tonne of games, an excellent tournament format, great diamonds, great hosts and to top it off the Championship Trophy and Gold Medal as well.
Sporting a final record of 7-1-0 UTM 2K2 earned Gold Sunday with three, yes three consectutive shut-out wins. The opener Sunday, saw Mikaela Moore pitch a 1-hit complete game. Game 2 saw McKenna Kelly pitch a 0-hit complete game, and in the final it was McKenna again throwing up zero's as the 2K2 team won a close match 1-0 over Hurricane Fastpitch, who had beaten UTM soundly on Friday evening. All the offense could muster to help the great pitching performance against the Hurricanes was a double by Shelby Millerl, who was then moved over by Mikaela Moore on a sacrafice, leading to an GW single from Jessie O'Donnell.
Every game this weekend (much like last) the team is getting break-out performances from someone new each week. This week, Meaghan Ash newly signed delivered a key hit helping the team secure the #2 seed in pool play, which made the playoff path way easier. Anna McGinnis from Rev1 joined this weekend as well to offer some catching depth, and to give Brooke Cressman a break from the heat.
This is the 3rd gold medal for the 2K2 team this season. The team has been awesome over the past four weekends, in which they've won these medals. The team is looking forward to a 1-day play day next weekend, but is in need of a fourth team to join them in Halton Hills. If your Bantam or Midget team is interested please contact us today.